SKU: 500419

Regular Price: $1,129.05
Patient Regular Price: $1,072.60
Special Order Product
15"x18" Bottom Hinged Intake Door with Recycling System Control Panel, "W" Series
Sort your recycleables and trash by simply pressing a button! This "W" Series 15"w x 18"h bottom hinged, hand operated chute intake door includes a recycling system panel. This panel can have two or three sort options. It can also be customized! Contact us if you require buttons other than recycle and garbage, as shown.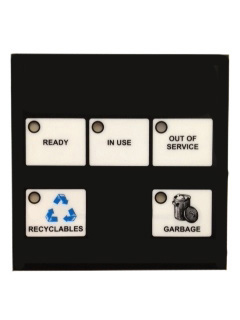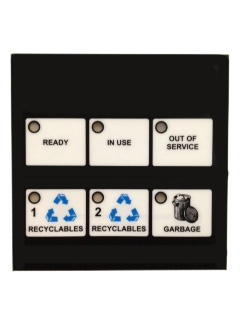 Chute Intake Door Features:
Size: 15"w x 18"h
Operation: Bottom hinged, hand-operated, self-closing, positive latching, recycling system panel
UL Label: clear listing of 1-1/2 hour, 30 minute - 250 degree max temperature rise
Replaceable parts: pull handle, thumb trigger style latch, enclosed door closer, 1/2" shaft hinge with bronze bearings, removable door panel, recycling system panel, stainless steel trim
Construction: Door Panel made with 20 gauge type 304 stainless steel front with No. 4 finish and 18 gauge satin coat galvannealed steel back.
Replaces Manufacturers Doors: Western Chutes and Chute Source Canada. Can be retrofitted to other chutes with sheet metal adaptors and wall modifications to fit chute door openings for doors of the same size.
Special Features:
The door closer is mounted outside to the trash opening in a fully enclosed heavy duty box accessible from the front to ensure years of trouble free operation.
Includes a panel with in-use, ready, and out of service buttons. Also includes buttons to indicate if discards items are recyclables or garbage.
Interlocks allow only one door open at a time to reduce clogging and enhance safety during peak usage periods. User must unlock the door by pressing the button then operating the latch or handle separately. Interlocks are designed to be normally locked so that in a power failure doors can not be opened. This also allows all doors to be locked out by turning off the power switch when working beneath the chute, greatly reducing liability and injuries.

Made in Canada by Union Craftsmen.