How Do I Select and Measure a Fire Rated Horizontal Discharge Door?
Discharge Doors are located at the bottom of the chute above the bin in the collection room. Discharge doors are either horizontal or vertical. There are two types of horizontal discharge doors. The first type is Fire Rated, has an accordion style damper, a fusible link, and is generally used on trash and recycle chutes. The second type is fire resistive, has a door on a rolling track, a fusible link, and should only be used in applications where a non-fire rated door is acceptable. Vertical discharge doors are typically used on linen chutes and are often part of a hopper style chute end. All are designed to slam shut in the event of a fire.

To determine the size door you need:
First, determine the shape of the chute. It will most likely be square or round.

Second, determine the dimension of the opening. For example, a round chute with a 24" diameter opening or a square chute that is 24" x 24".

Finally, select the proper size discharge door remembering to select it from the round or square category. If you have a rectangular chute, select the square discharge door with the same dimension as the longest side or contact us for a custom sized door.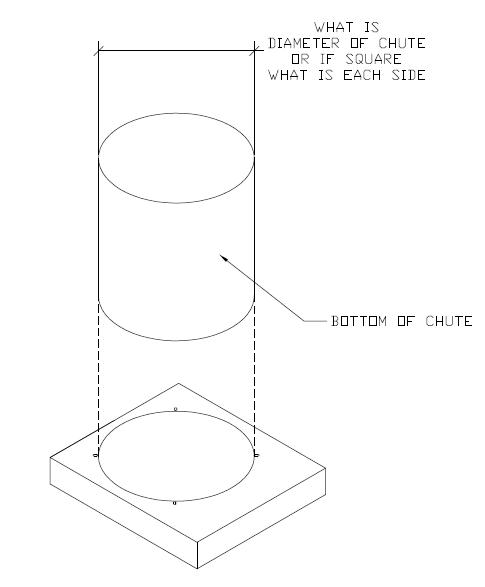 Double check the bottom of the chute to see if you have mounting clips or an adaptor. If you need these to attach your new discharge door to the chute remember to put them in your cart before you check out.
If you are not sure which door or size you need to order, or your measurements don't match those listed, please click Live Chat or call us, and we will be happy to help.