The health and safety of your building and its occupants are so important to us the Chute Doctor will make a FREE "house call"! If you'd like to have one of the Doctor's top-notch technicians visit your facility to give you a diagnosis of the current condition of your trash chutes, recycling chutes or linen chutes and how to maintain, repair, and control the odor in them, contact us today. You can use the Doctor's
live chat
, call 800-755-CHUTE or use the form at the right.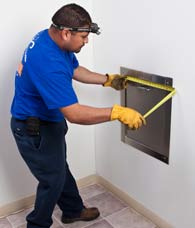 The Chute Doctor's technicians are uniformed specialists, professionally trained, and bonded. Our specialist thoroughly inspect your chutes, collection rooms, and compactors, and give you a comprehensive report describing what needs repairing, cleaning, and what should be part of a regularly scheduled maintenance.
We have been in the chute business for over 50 years. No one knows more about chutes than the Doctor. In fact, we have a database of thousands of buildings with chutes, so we may already have yours on file.
Remember, because we care, we use only EPA registered, FDA approved, natural botanical solutions for trash and recycling chute cleaning.