Customer Service
How Can We Help?
Customer Service can be reached Monday – Friday 8:30 AM – 4:00 PM Pacific Time.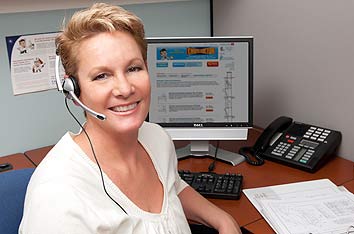 Shipping Information
We can usually ship in-stock orders within one business day; you will be notified if items you order are back-ordered or special-order products.
A street address is needed for shipping – we cannot ship to P.O. boxes. We typically ship Internet orders via UPS Ground, and shipping and handling costs are determined by product weight and quantity. Heavy and bulky items require special attention and must be shipped separately.
Options such as customer pick-up, overnight delivery, orders shipping outside the continental U.S., and delivery on a non-business weekday are handled by our Customer Service Department. Please contact Customer Service within 1-hour after placing your order if you need to expedite, change or cancel your order.
For our complete shipping information and policies click here.
Returns
You can buy with confidence. Should you receive a defective product, we will gladly replace it and pay for return shipping. (If a product was damaged in transit to you, please contact the shipping company for reimbursement instead).
For non-defective products there is a 15% restocking fee. Special order items may incur a higher restocking fee. Custom orders are final.
All returns MUST have a Return Goods Authorization (RGA) number written on the shipping box. Print the Return Goods Authorization Form. Complete and fax to the number on the form. Once accepted it will be returned with the RGA Number. The item can then be returned to the company.
For our complete return policy click here.
Address returns to:
THE CHUTE DOCTOR
Returns Department
1016 E Edna Pl
Covina, CA 91724
Custom and Special Order Chute Parts
Custom-Made Chute Parts
The Chute Doctor maintains an on-site staff of engineers ready to design custom chute parts and solutions to your specifications. Since we manufacture chute parts, we have full fabrication facilities. We will provide formal quotations based on detailed drawings.
Terms & Delivery Time
Custom order terms for clients with established credit are 50% down at time of order with the balance to be paid net 30 days. For clients that do not have established credit we require a 50% down payment with the balance to be paid prior to shipment. Please complete and return the confidential Chute Dr. Application for Credit directly to sales.

Shipping date estimates begin on receipt of customer approved drawings and the initial deposit. Once the order is in production it may not be canceled or changed. All deposits are non-refundable and all custom order sales are final.
Special-Order Chute Parts
Although we carry many hundreds of items in stock, we may need to special order an item for you, and we are happy to do so. Sales of special order items are processed immediately upon receipt. Any changes to or cancellation of a special order item may incur a processing, cancellation or re-stocking fee.